Online Course
PRESERVERE – Training voor Juridische Professionals
Leer over de EU-richtlijnen inzake rassengelijkheid en de rechten van slachtoffers, en hoe u deze kunt gebruiken om de kwetsbaren te helpen
Dit workshop is onderdeel van een Europese project genoemed PRESERVERE (Preventing Racism and Discrimination- Enabling the Effective Implementation of the EU Anti-Racist Legal Framework). Het project heeft betrekking op de bestrijding van intolerantie, racisme, xenofobie en discriminatie van kwetsbare etnische en raciale groepen en in het bijzonder Roma, Joden, Moslims en mensen van Afrikaanse afkomst. Uitgaande van het uitgangspunt dat elk systeem dat belast is met het beschermen van de kwetsbaren tegen discriminatie in de eerste plaats moet steunen op een effectief wettelijk kader, implementeert het project activiteiten die gericht zijn op een betere handhaving van de wet.
Elke workshop duurt 1,5 uur en wordt  gegeven op het terrein van de Digital Society School. Stuur een email naar Wai Feersma Hoekstra als je vragen hebt.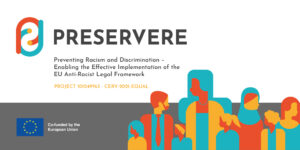 Module 1:

During this session, teachers will create a common vision about how to address and apply A.I. to future-proof your educational (assessment) practices

Module 2:

During this session, teachers will creatively find new approaches to implement student assessments on digital platforms, whether in the form of digital surveys/forms, interactive spreadsheets, or simple AR/VR applications. In addition, using provided digital tools, teachers will translate criteria for assessments (as identified from kick off session) into digital platforms

Module 3:

In this session, teachers will share the assessment practices designed in the previous session and review them with their (peer) coach

Module 4:

After a period of time of trying and testing out, the final wrap-up session will be held after each teacher has implemented the new strategies in practice and time will be dedicated to help teachers adjust and refine the tools for future use
After successful completion of the course, participants should be able to understand:
more about A.I (what is it and paradigms) and learn how to use A.I. for educational purposes.
how to remove barriers and perceived dilemmas in using digital methods to assess their students' practical skills
how to gain insights on how digital tools can be applied to innovate learning journeys
relevant technologies such as their pros and cons, and how they may be implemented
and be familiarized with basic ideation process to form solutions with technology for the individual's domains of expertise
how to turn ideas into prototypes that can be implemented and validated in real-life classroom settings
Een certificaat van voltooiing wordt verzonden naar succesvolle deelnemers die alle modules binnen de cursus afronden.
Juridische professionals, d.w.z. professionals op het gebied van recht of wetshandhaving: bijv. advocaten, rechters, openbare aanklagers, stagiair-advocaten, masterstudenten, rechtenstudenten
Q: Waar vindt deze cursus plaats?
A: Deze cursus vindt plaats op het kantoor van Digital Society School (HvA Theo Thijssenhuis, Wibautstraat 2, 1091GM Amsterdam)
Q: Heb ik ervaring nodig om deel te nemen aan deze training?
A: Van deelnemers wordt geen voorkennis verwacht. De bedoeling van de training is om te leren over de EU-richtlijnen naast het delen van best practices met elkaar
Meet the course instructors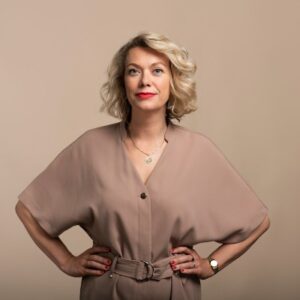 Hortense Koster
Hortense Koster is an expert in user insight, foresight and cultural research for innovation trajectories. In sharing her knowledge with students, she has worked as a lecturer and coach for innovation labs at several universities of Applied Sciences ( Fontys Trends, Concepting for Lifestyle, Inholland Business Innovation, Inholland Food Technology, and HvA Communication, Multimedia and Design). Next to coaching students, Hortense helps clients (FMCG, health, and technology) get on the right track by understanding future user needs and applying these insights within a service roadmap, value proposition, or business model. During Vision Lab workshops, she signal trends and changes internally and externally, and in Solutions Labs guides teams to put ideas into action. In this process interpret them to help clients and their team to see the market potential in all things 'new'.