Transformation Design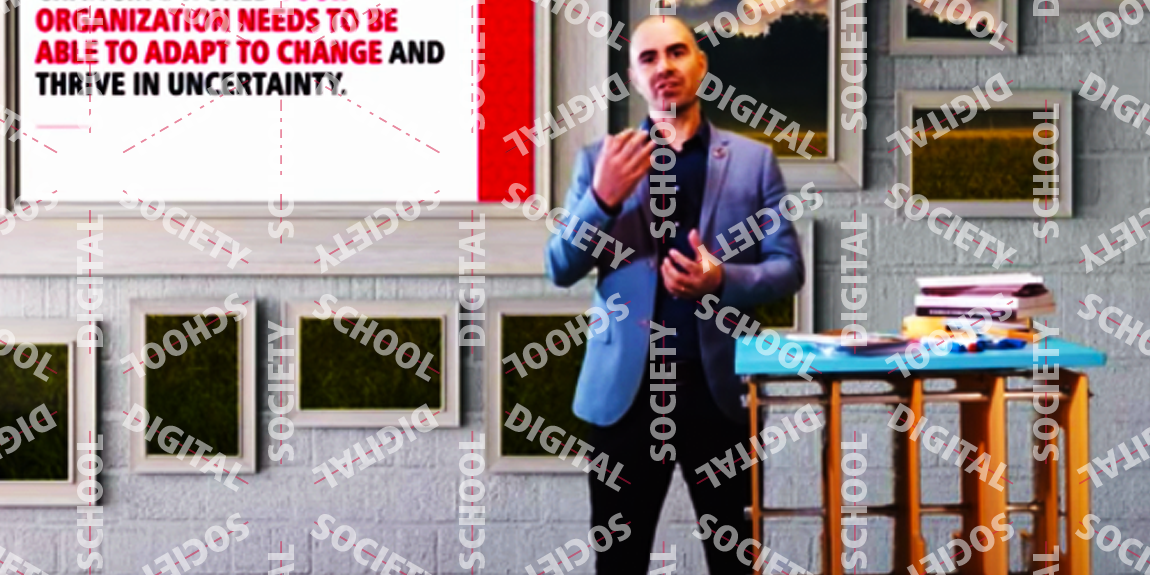 Transformation can only start now, the revolution is today. You can start right here.
Learn how to design for transformation through hands-on methods and tools to benefit the planet, society, your life, and your professional context. 
The pace of change is

exponential

.

The complexity of problems is intertwined, interconnected and thus

systemic

.

The key objective in solving these systemic issues is

transformation

: 

The key learnable skill is to

design for transformation

:

The power to learn and relearn as we evolve and adapt.

This hybrid online course (live sessions + self-paced learning) is proudly brought to you by Transformational Studio and Digital Society School. Contact us at digitalsocietyschool@hva.nl for special rates for groups and organisations!
---
Today, the world is transforming at a fast(er) pace.
The transformation encompasses technology, sustainability, social systems, culture, healthcare, economics, education,… the list goes on and on.
This transformation is broad AND deep. 
And, it is disrupting our society more profoundly than ever before. Apart from some of the positive effects, concerns are growing rapidly about our climate, inequality, education, health, wellbeing, economic prosperity, security, and safety. 
In this course we explore more responsible ways to use the global transformation for the benefit of society and provide you with the hands-on methods and tools to really start; from your own work, life and context. 
---
Learning Outcomes
During this course you will follow 4 modules. Each module will have an introductory, and theoretical and practical video to start your learning experience. 
Then, you will use the workbook to make exercises that will be reflected within your designated team of peers (who also follow the course). 
At the start and end of the course, a live facilitated session is scheduled to get you on your way and wrap up all learnings with the full cohort. 
Additionally, you will work with the extensive 'Transformational Triggers' toolkit.
---
Certification
A certificate of completion issued by Digital Society School (Amsterdam University of Applied Sciences) will be sent to successful participants. Successful completion can be achieved by attending all modules of the course.
---
Whom is this course for?
Corporate leaders who wish to pave the way for sustainable (digital) transformation;

Design leaders seeking ways to inspire their teams towards new mindsets;

Entrepreneurs and start-ups looking to create, develop and scale businesses in a transformational context;

Public sector leaders that want to work more sustainably, inclusively and help create shared value in participative ways;

Everyone who is involved in or feels responsible for the (digital) transformation of their organisation;

Everyone who cares about the planet or society and is looking for ways to integrate design, technology and social innovation to unleash transformation within their organizations.
---
What you will do?
The 4 modules cover the 4 ingredients of Transformation Design.
We kick off with a live session.
Module 1 – Re-adaptive Learning . You will familiarize yourself with the 15 S Model: a Strategic Design process applicable to any aspect of your organisation, its outcome can be varied and understood as a coherent ecosystem of dynamic solutions. At the end of this module, you will know all 15S's and how to use them within your work.
You will wrap up module 1 with a peer-to-peer learning session in smaller groups (self-organised with instructions from the trainers)
Module 2 – Sustainable Change and Diversity. In this module you will learn about the six Sustainable Development Goals transformations, the four roadblocks that are holding us back from having impact on sustainable change and how design and its best traits can help. You will also learn ways to organize diversity within your team or organization and how this will impact sustainable change and transformation.
You will wrap up module 2 with a peer-to-peer learning session in smaller groups (self-organised with instructions from the trainers)
Module 3 – Transformation. In this module, you will learn about your personal role in transformation: how does the self relate to the system, and what role do our intentions have? You will learn about the differences between change and transformation, between complicated and complex problems, between a global and local outlook, and between designing in the open and behind closed doors. You will walk away with a clear notion of the need for co-inspiration as the enabler for true transformation.

You will wrap up module 3 with a peer-to-peer learning session in smaller groups (self-organised with instructions from the trainers)
Module 4 – Experimentation. In this module, you will learn how a culture of experimentation is crucial in the organization of any transformation. You will learn how to formulate experiments fitting for transformation design challenges and how co-creation is a key to successful transformation.
We wrap up the entire course with a live session.
---
Covered Digital Society School competencies
Collaboration and Co-creation

Create solutions for social impact

Adaptive learning

Interdisciplinary system thinking

Human-Centered Design
---
Questions you may have
Q: What can a (digital) transformation officer or manager gain from this course?
A: You will be introduced to a design-based framework for (digital) transformation, that is rooted in design thinking and future-based practices. You will also learn how to gear an existing digital transformation strategy towards long-term organizational, social and environmental sustainability.
Q: How will this course enrich my company's existing transformation strategy?
A: Transformation strategies often circle only around implementing or capitalizing on new technologies. In this course, we see process and culture reinvention as equally important cornerstones for successful transformation. This course will empower you with a diverse set of tools for a holistic impact on your organization's future. 
Q: As part of  "middle-management", will this course help me have an impact on transformation?
A: This course is built to empower individuals from all levels of an organization to build a convincing story around responsible transformation. All exercises will be based on your own organization, while you will also be developing a comprehensive pitch deck aimed to be shared with your colleagues thereafter.
Q: What does design have to do with business innovation?
A: During the course, we will be outlining the common points of the culture of design and that of innovation. For now, we shall quote Nobel Laureate Herbert Simon, "Everyone who devises courses of action aimed at changing existing situations into preferred ones" (1969).
Q: How can I pick the right colleagues to join me in this course?
A: We recommend that you pick 5-7 people from different teams and layers of your organization. These people should have a gut-level understanding of its core values, exemplify these in their daily work, have high credibility among their peers, and be motivated to act as ambassadors of transformation.
---
Meet the trainers of the course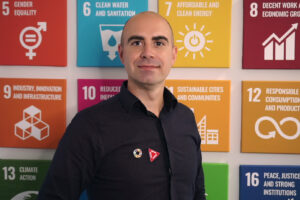 Marco van Hout is co-founder and creative director of Digital Society School. As a recognized design leader and pioneer in experience design in the past 20 years he has gained broad expertise on topics such as transformation design, digital society, UX, human(ity) and life centered design. He believes in the creation of a 'global learning society' to ignite transformation towards a better world. In this light he has co-founded the Global Goals Jam with the UNDP and is a community liaison for transformation/ design for SDG's at the World Design Organization.
Marco likes to be hands on with big concepts and is known for making concepts and ideas tangible through the creation of toolkits (e.g. the Design Method Toolkit) and workshops. He is a globally sought after speaker, educator and trainer and has travelled the world, speaking/teaching about emotional design, experience-driven design and design for sustainable development and transformation.
---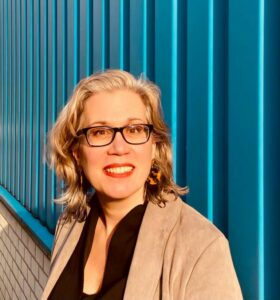 Carola Verschoor is the founder and chief creative at Transformational Studio. As a business designer she integrates decades of industry practice, design-driven methods and innovative approaches into participative, interactive and provocative consulting services. Her aim through her practice is to (r)evolutionize change in a complex world and help embody the transformation we wish to see in business today.
Carola has a track record of more than 25 years working across industries, developing teams and delivering successful innovation.
She is a much sought public speaker and thought leader on the topics of innovation, strategy, creativity, transformation and (service) design for business. Carola is the author of Change Ahead, which is recognized as a leading book on the emerging practices in the domain of business strategy, research and design.
---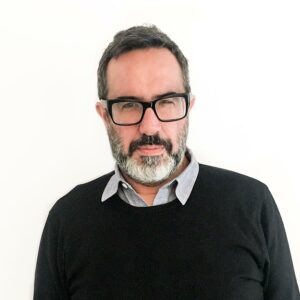 Alberto Barreiro is a Strategic Designer focused on making the transition irresistible towards a more sustainable, conscious, and responsible way of understanding businesses and creating value. In this manner, we can leave our world slightly more beautiful, meaningful and kinder than we found it. In the past 20 years, Alberto has worked internationally as an artist, designer, business consultant and media executive. He has collaborated with diverse global brands and launched various initiatives in digital media and experience design.
He is actively engaged in higher education on design for business, across different platforms and institutions such as the Universidad Complutense de Madrid, the Miami Ad School and the IE Business School, where he is a professor to master degree students on topics of CX, human-centric design and competitive social transformation.
---
Olina Terzi is a Digital Transformation Designer and project leader at the Digital Society School in Amsterdam. Olina is a research & design professional fascinated by the intersection of cities, technologies and people. Along with her teams, she designs digital products and services for Smart Cities and the interaction of citizens, communities and local government. In the past she has worked as an architect in Amsterdam and London and in business development and community engagement for the Office for Metropolitan Architecture (OMA) in New York. Throughout her experience she has designed urban solutions for African, European, Chinese and North American contexts.
At the 2016 Venice Architecture Biennale Olina was part of the team awarded the Silver Lion for Promising Young Participant. She is currently Chair of the Student Exhibition at the Media Architecture Biennale 2020. Olina holds a Master of Science in Architecture, Urbanism and Building Sciences from Delft University of Technology."
Not exactly what you're looking for?
We understand that your organisation might have specific needs, and you might need specific learning paths or custom courses tailored to your specific needs. Our in-company trainings might be what you are looking for, contact us and we'll arrange for one of our experts to design a course to cater to your specific needs.