Course
Introduction to Transformation Design
Learn how to design for transformation through hands-on methods and tools to benefit the planet, society, your life, and your professional context. 
"Dear Future, I'm Ready to be a force for transformation, creating value for humanity. But I can't do it all myself!"
– Joe Pine (Author of The Experience Economy)
In this course we explore more responsible ways to use the global transformation for the benefit of society and provide you with the hands-on methods and tools to really start; from your own work, life and context. We want to make sure more and more people have the tools and mindset to become a force for transformation. Join us in this introductory course and start your transformational leadership journey now.
This 1-day version of the Transformation Design course provides a brief but intense look into the 4 ingredients of Transformation Design: Re-Adaptive Learning, Sustainability & Diversity, Transformation and Experimentation. All methods, concepts and insights are introduced via bit-sized, insightful exercises. Apart from the 1-day in-person session taking place at Circl, you will gain access to a rich resource of videos and materials on our virtual learning platform to help you in your journey.
Note: The course will continue only with sufficient registrants. For our overseas participants, please be in touch with Wai at w.feersmahoekstra@hva.nl to check before booking any transport to Amsterdam.
(In-person) Introduction to Transformation Design

In this 1-day session, you will get a brief but intense look into the 4 ingredients of Transformation Design: Re-Adaptive Learning, Sustainability & Diversity, Transformation and Experimentation. All methods, concepts and insights are introduced via bit-sized, insightful exercises.

(Online) Module 1 – Re-adaptive Learning

You will learn to re-adapt by working with the Transformation Design Toolkit: Transformational Triggers Each card introduces a wicked problem of our time, namely social, economic, political, technological, legal, or cultural topics that require transformational solutions.
 Sustainable Development Goals
 Each card introduces one of the United Nations' Sustainable Development Goals (SDGs). By considering triggers through the lense of specific SDGs, new creative solutions can be considered.
 Mindshifts
 Each card introduces a series of questions based on the work of Cheskin Added Value* to help you reframe issues, define your position and build scenarios for a better future.

(Online) Module 2 – Sustainable Change and Diversity

In this module you will learn about the six Sustainable Development Goals transformations, the four roadblocks that are holding us back from having impact on sustainable change and how design and its best traits can help. You will also learn ways to organize diversity within your team or organization and how this will impact sustainable change and transformation.

(Online) Module 3 – Transformation

In this module, you will learn about your personal role in transformation: how does the self relate to the system, and what role do our intentions have? You will learn about the differences between change and transformation, between complicated and complex problems, between a global and local outlook, and between designing in the open and behind closed doors. You will walk away with a clear notion of the need for co-inspiration as the enabler for true transformation.

(Online) Module 4 – Experimentation

In this module, you will learn how a culture of experimentation is crucial in the organization of any transformation. You will learn how to formulate experiments fitting for transformation design challenges and how co-creation is a key to successful transformation.
After successful completion of the course, participants should be able to understand:
During this course you will follow 4 modules at your own pace and time. Each module will have an introductory, and theoretical and practical part to engage you in your learning experience.
You will learn how to use the Transformation Design Toolkit and translate it to your day-to-day.
You will have an understanding of the four ingredients that are fundamental to Transformation Design.
A certificate of completion issued by Digital Society School (Amsterdam University of Applied Sciences) will be issued to all participants. Successful completion can be achieved by attending the course.
Corporate leaders who wish to pave the way for sustainable (digital) transformation;
Design leaders seeking ways to inspire their teams towards new mindsets;
Entrepreneurs and start-ups looking to create, develop and scale businesses in a transformational context;
Public sector leaders that want to work more sustainably, inclusively and help create shared value in participative ways;
Everyone who is involved in or feels responsible for the (digital) transformation of their organisation;
Everyone who cares about the planet or society and is looking for ways to integrate design, technology and social innovation to unleash transformation within their organizations.
Q: What can a (digital) transformation officer or manager gain from this course?
A: You will be introduced to a design-based framework for (digital) transformation, that is rooted in design thinking and future-based practices. You will also learn how to gear an existing digital transformation strategy towards long-term organizational, social and environmental sustainability.
Q: How will this course enrich my company's existing transformation strategy?
A: Transformation strategies often circle only around implementing or capitalizing on new technologies. In this course, we see process and culture reinvention as equally important cornerstones for successful transformation. This course will empower you with a diverse set of tools for a holistic impact on your organization's future.
Q: As part of "middle-management", will this course help me have an impact on transformation?
A: During the course, we will be outlining the common points of the culture of design and that of innovation. For now, we shall quote Nobel Laureate Herbert Simon, "Everyone who devises courses of action aimed at changing existing situations into preferred ones" (1969).
Q: How can I pick the right colleagues to join me in this course?
A: We recommend that you pick 5-7 people from different teams and layers of your organization. These people should have a gut-level understanding of its core values, exemplify these in their daily work, have high credibility among their peers, and be motivated to act as ambassadors of transformation.
Covered Digital Society School competencies
Collaboration and Co-creation
Create solutions for social impact
Adaptive learning
Interdisciplinary system thinking
Human-Centered Design
Meet the course instructors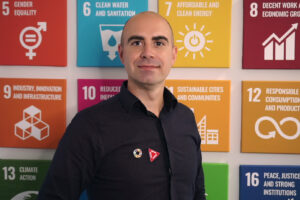 Marco van Hout
is co-founder and creative director of Digital Society School. As a recognized design leader and pioneer in experience design in the past 20 years he has gained broad expertise on topics such as transformation design, digital society, UX, human(ity) and life centered design. He believes in the creation of a 'global learning society' to ignite transformation towards a better world. In this light he has co-founded the Global Goals Jam with the UNDP and is a community liaison for transformation/ design for SDG's at the World Design Organization. Marco likes to be hands on with big concepts and is known for making concepts and ideas tangible through the creation of toolkits (e.g. the Design Method Toolkit) and workshops. He is a globally sought after speaker, educator and trainer and has travelled the world, speaking/teaching about emotional design, experience-driven design and design for sustainable development and transformation.