Course
U!REKA Change Agents Programme Spring 2023
U!REKA CHange Agents Programme
As an international applied research, innovation and education network with common goals, U!REKA's ambition is to educate, shape and deliver the European professionals of tomorrow. These professionals will contribute to an inclusive, intercultural and open-minded professional Europe. 
In order to have more students involved in the U!REKA network and to work on topics related to the sustainable development goals combined with topics that are important for each institute, a new initiative was born: the U!REKA Change Agents programme.
The pilot programme is made up of a combination of online and in-person sessions in Amsterdam. During this 2,5 month programme, students of various backgrounds from across different European institutions will work together to work on a challenge. At the end of the programme, they will present their findings to each other and to their respective University representatives.
After successful completion of the course, participants should be able to understand:
Get introduced to the Sustainable Development Goals as well as gain a deeper understanding of the challenge of water and Sustainability
Design Thinking methodologies and tools
Prototyping
Tips and tricks for organising the perfect jam for impact!
A certificate of completion will be issued by the respective universities
Students of the U!REKA network who are motivated to be change makers in the topic of Sustainability!
Covered Digital Society School competencies
Interdisciplinary system thinking
Collaboration and co-creation
Adaptive learning
Meet the course instructors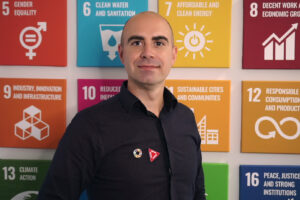 Marco van Hout
is co-founder and creative director of Digital Society School. As a recognized design leader and pioneer in experience design in the past 20 years he has gained broad expertise on topics such as transformation design, digital society, UX, human(ity) and life centered design. He believes in the creation of a 'global learning society' to ignite transformation towards a better world. In this light he has co-founded the Global Goals Jam with the UNDP and is a community liaison for transformation/ design for SDG's at the World Design Organization. Marco likes to be hands on with big concepts and is known for making concepts and ideas tangible through the creation of toolkits (e.g. the Design Method Toolkit) and workshops. He is a globally sought after speaker, educator and trainer and has travelled the world, speaking/teaching about emotional design, experience-driven design and design for sustainable development and transformation.