Course
Training for Teachers: Digital Tools for Assessments
Learn how to design and perform assessments using innovative digital methods
With the rise of the ChatGPT, teachers, and lecturers are increasingly worried about how students will use A.I. to their advantage (and cheat).
However, there are ways to recognize A.I.-enabled answers in the reports and text. As we are becoming more aware of this new shift in technology, the educational digital environment in which we work can experience barriers or perceive dilemmas of how to use these A.I. tools. Nevertheless, the educational digital environment needs to stay up to date in applying A.I. tools in their assessment
Most teachers are aware of this new paradigm, however it is apparent that many teachers experience barriers and perceive dilemmas. As a result, they are not applying the latest methods in their assessment of students' practical skills yet. Considering the challenges, we have developed a training as part of the EU project about Practical Skills Evaluation with Digital Technologies in Teacher Education.
This 4-part workshop organised by Digital Society School is designed and structured with the view to support teachers' digital and assessment competencies, as well as using a peer-learning approach facilitated by the participation in the training of academics with similar teaching experience. The training aims to enable teachers to perform assessment with innovative digital methods, ensuring that teachers receive the skills and knowledge they need for adopting authentic assessment strategies to evaluate students' practical skills. We will use a 4 step co-design method to help teachers, knowledge institutions and other stakeholders to communicate and collaborate clearly. The process starts with the discovery phase, to find the why and how of using digital tools in assessments and frame the opportunities per tool. In this way knowledge will be shared, benefits understood, and new tools applied, and participants will gain ownership of future proof assessments.
Each workshop is 1.5 hours, and will be held in-person at the Digital Society School premises. Are you not able to join all 4 workshops but still interested to join partially? No problem! Register for the training using the "Join this course" button and send an email to Wai Feersma Hoekstra to indicate your availability.

Module 1: How to work with AI in your future-proof assessments (February 7, 10h00-11h30)

During this session, teachers will create a common vision about how to address and apply A.I. to future-proof your educational (assessment) practices

Module 2: Use of digital tools to design assessment practices (February 10, 10h00-11h30)

During this session, teachers will creatively find new approaches to implement student assessments on digital platforms, whether in the form of digital surveys/forms, interactive spreadsheets, or simple AR/VR applications. In addition, using provided digital tools, teachers will translate criteria for assessments (as identified from kick off session) into digital platforms

Module 3: Review session (February 24, 10h00-11h30)

In this session, teachers will share the assessment practices designed in the previous session and review them with their (peer) coach

Module 4: Wrap-up session (March 24, 10h00-11h30)

After a period of time of trying and testing out, the final wrap-up session will be held after each teacher has implemented the new strategies in practice and time will be dedicated to help teachers adjust and refine the tools for future use
After successful completion of the course, participants should be able to understand:
more about A.I (what is it and paradigms) and learn how to use A.I. for educational purposes.
how to remove barriers and perceived dilemmas in using digital methods to assess their students' practical skills
how to gain insights on how digital tools can be applied to innovate learning journeys
relevant technologies such as their pros and cons, and how they may be implemented
and be familiarized with basic ideation process to form solutions with technology for the individual's domains of expertise
how to turn ideas into prototypes that can be implemented and validated in real-life classroom settings
A certificate of completion will be sent to successful participants who finish all modules within the course.
The training is addressed to higher education teachers, students studying to be teachers, educational administrators and professionals involved in the educational field who want to improve their assessment skills using digital methods.
Q: Where will this course take place?
A: This course will take place at the space of Digital Society School (Theo Thijssenhuis 1st floor of the Amsterdam University of Applied Sciences).
Q: Do I need tech experience to join this training?
A: Participants are not expected to have prior tech experiences. Digital tools introduced in session will vary in technical complexity, allowing for teachers from various backgrounds and skills to be able to implement their ideas in their own way, provided guidance from instructor on their concept. All tools will be provided with examples and templates, such that there is a low barrier for entry in using the tool.
Meet the course instructors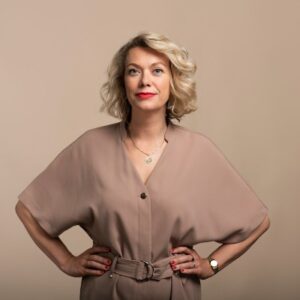 Hortense Koster
Hortense Koster is an expert in user insight, foresight and cultural research for innovation trajectories. In sharing her knowledge with students, she has worked as a lecturer and coach for innovation labs at several universities of Applied Sciences ( Fontys Trends, Concepting for Lifestyle, Inholland Business Innovation, Inholland Food Technology, and HvA Communication, Multimedia and Design). Next to coaching students, Hortense helps clients (FMCG, health, and technology) get on the right track by understanding future user needs and applying these insights within a service roadmap, value proposition, or business model. During Vision Lab workshops, she signal trends and changes internally and externally, and in Solutions Labs guides teams to put ideas into action. In this process interpret them to help clients and their team to see the market potential in all things 'new'.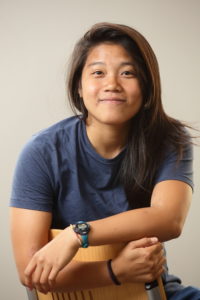 Kwan Suppaiboonsuk
Kwan Suppaiboonsuk is a multidisciplinary engineer currently focused on software development. Originally from Thailand, she moved to the Netherlands to continue her studies at the University of Twente, where she obtained a degree in Technology and Liberal Arts & Sciences. With a specialization in biomedical engineering, she maintains a human-focused perspective in her works. Now based in Amsterdam, she is a developer at Digital Society School where she tinkers with emerging technology, develops various digital tools, and design workshops and courses on various technologies. Next to that, she is a collaborator at AI x Design, a budding community that unites practitioners and develops practices at the intersection of AI and Design. She is passionate about data strategy, computational art, and the philosophy of technology. She enjoys learning new things and playing around with ideas to explore new perspectives. When not tinkering or thinking too much, she is either on the soccer field or on the search for good burgers.