On-demand Course
Global Goals Jam Train the Trainer for Organisers and Facilitators
Get introduced to the Global Goals Jam & learn how to organize and facilitate a jam!
Hi there! Would you like to organise or be a facilitator in a local Global Goals Jam this year? We are thrilled that you are considering joining this global network of design activists!
The Global Goals Jam is a 2 day event to engage makers and designers to contribute to the Sustainable Development Goals by creating short- term interventions with long-term impact. More than an event, it is a network of cities and organisations that are excited to engage their local communities to create real impact for the Global Goals.
This Train the Trainer course, facilitated by the founders of Global Goals Jam, Digital Society School, will help you get started. The course consists of a self-paced online part which is hosted on Digital Society School's virtual learning platform. The course is designed to allow you maximum flexibility to go through the content at your own time and pace.
Fee and official certificate
We ask a one-time fee of 50 euros to participate in this course and support the Global Goals Jam coordination by Digital Society School. In return you will receive an official certificate for local organizers and licensed facilitators, issued by Digital Society School, Amsterdam University of Applied Sciences. If you are not able to commit to the fee, please send us an email to digitalsocietyschool@hva.nl to discuss possibilities!
Topics online environment

- An introduction to Sustainable Development - An introduction to the Global Goals Jam - How design can help sustainable Development - How to jam; structure and organisation - Methods and concepts used in the Global Goals Jam - Best practices
After successful completion of the course, participants should be able to understand:
Gain a deeper understanding of the Sustainable Development Goals as well as the Global Goals Jam
Methodologies to help you organise a successful and impactful Jam
Insight in the methods used in the jam, so you can facilitate these with your local group
Tips and tricks for organising the perfect jam for impact!
A certificate of completion issued by Digital Society School (part of the Amsterdam University of Applied Sciences) will be sent to successful participants who complete all modules of the course.
Organisers of the Global Goals Jam
Facilitators of the Global Goals Jam
Those interested in organising or facilitating a jam in the future
The course is designed for participants to go through the content on our virtual learning platform at your own pace and time.
Covered Digital Society School competencies
Interdisciplinary system thinking
Collaboration and co-creation
Adaptive learning
Meet the course instructors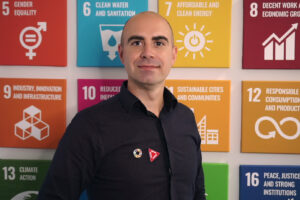 Marco van Hout
is co-founder and creative director of Digital Society School. As a recognized design leader and pioneer in experience design in the past 20 years he has gained broad expertise on topics such as transformation design, digital society, UX, human(ity) and life centered design. He believes in the creation of a 'global learning society' to ignite transformation towards a better world. In this light he has co-founded the Global Goals Jam with the UNDP and is a community liaison for transformation/ design for SDG's at the World Design Organization. Marco likes to be hands on with big concepts and is known for making concepts and ideas tangible through the creation of toolkits (e.g. the Design Method Toolkit) and workshops. He is a globally sought after speaker, educator and trainer and has travelled the world, speaking/teaching about emotional design, experience-driven design and design for sustainable development and transformation.