Online Course
Diversity and Inclusion
Learn how to embrace diversity and inclusion in your day-to-day work: Hire differently, work differently, collaborate differently.
Contact us at digitalsocietyschool@hva.nl for special rates for groups!
Are you an inclusive manager? Have you been wondering what diversity is beyond race, colour, gender and the other "obvious" aspects of diversity? Are you curious about the history of Diversity? Do you want to get some practical tips and useful strategies to apply Diversity at work as an employer, employee or a colleague?
If it is a yes for one of those questions, then this online live course is for you!
The goal of Diversity and Inclusion (D&I) is to give everyone the chance to contribute to their organisation's work while not suppressing or neglecting any aspect of their identity.
This course aims to provide you with a theoretical background on the topic in addition to strategies and practices to use in work-related situations you are facing or might experience in the future. After this course you will be empowered with relevant knowledge related to D&I to apply to your daily practice as a hiring manager, as an employee and as a citizen in society. During the 4 sessions of the course, we will also discuss the more critical aspects of diversity and inclusion. The course will take place within Digital Society School's virtual learning platform.
This course will take place over 4 modules where you will go through the content, discussions and exercises together. Each module is 3 hours long. You will also get access to our Digital Society School learning platform where you can review (additional) materials related to the topic.
THEORY (Session 1 & 2)

You will learn the historical context of D&I and how it developed, with focus on Africa, Europe and North America. We will shed light on the political, economic and educational aspects, such as post-colonialism, the feminist movement and how higher education played a role in defining D&I. In addition, you will get a glimpse into the role of AI and big data on this issue, namely how it reproduces the bias we as people have and if AI and big data can be instrumental to create more diversity and inclusivity. This section will include, but will not be limited to, bias, identity, levels and layers of D&I. After the framing of the topic in those 2 sessions, we will dive into the core of D&I.

APPLIED (Session 3 & 4 )

In the first session of the applied part the connection between theory and practice will be established, reflecting and connecting what has been discussed to real life situations. You will dive deeper into analysing your situation and develop strategies to understand and deal with situations related to D&I. In addition, we will discuss the pros and the cons for the business case of D&I. In the second session, we will cover practices when hiring team members as well as when interacting with colleagues and customers. There is also space to discuss any points we have not covered.
After successful completion of the course, participants should be able to understand:
How the concept of D&I was born and developed.
The connection between diversity and identity.
The difference between lack of inclusivity and racism.
The connection between power relations, sense of belonging (in a team) and empowerment.
The types and layers of diversity and how it can be capitalized to benefit everyone.
Other concepts to lay the ground for the strategies and practices to help you incorporate D&I into your daily work.
A certificate of completion issued by Digital Society School (part of the Amsterdam University of Applied Sciences) will be sent to successful participants who complete all modules of the course.
Someone who wants to know about diversity and dive a bit deeper into the topic.
Is curious about when and how the Diversity & Inclusion movement all started, the different layers of diversity beyond race, gender and cultural background.
Wants to understand the past and current role of higher education when it comes to diversity.
Is in recruitment (e.g in HR or a manager) and what to get some practical solutions beyond the theory.
The course is designed to be interactive. Therefore, you will be discussing and applying the theory to relate it to your work and daily lives. In order to give the space to most styles of learning, there will be opportunities for you to work alone, in small teams and in bigger groups. However, we can take into consideration other less common learning styles. For that, please let us know your preferences or reservations once you have registered for the course.
Our goal is to create a safe learning environment which can bring you the most out of this course.
Covered Digital Society School competencies
Interdisciplinary system thinking
Collaboration and co-creation
Adaptive learning
Meet the course instructors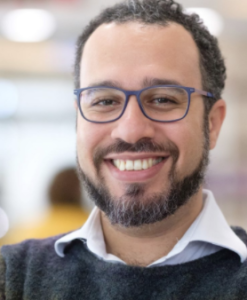 Sobhi Khatib
has worked with over 70 organisations across different sectors to assist them with advancing their storytelling, inclusivity, communications, strategy and innovation. To name a few of the organisations Sobhi has worked with: Aljazeera, Netflix, United Nations, Amnesty International and many others. Currently, Sobhi is Programme Manager at Digital Society School (track Systems for Sharing, focusing on system thinking, technology and public values) and a senior lecturer-researcher at Amsterdam University of Applied Sciences. In addition, he is a storyteller, facilitator and a speaker. Sobhi has a Bachelor's degree in Psychology (Derby University, UK) and has obtained a Master's degree in Human Rights & Conflict Management (Sant'Anna University, Italy).